Some Water Well Tips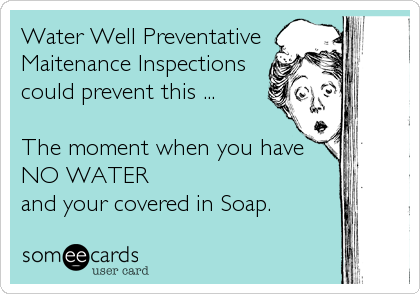 Muddy Colored Water Could Be A Problem
With Your System It May Need Immediate Attention.
Call For Service


Keep Weeds From Growing Around Pumps And Controls.
Weeds Attract Bugs, Insects, Etc.
Green Weeds Cause Moisture
And
Dry Weeds Cause Fires.
Which Can All Lead To Problems
In The Pumps, Switches, And Wiring.
Spray Bug Killer
Around
Pump, Switches And Tank Area.
NOT
Directly On Switches, Pumps
Or
Anything Electrical
It Will Cause A Fire.


If Pump Is Excessively Cycling
On And Off,
You Could Have One Of Many Problems;
Pressure Tank,
Controls,
Check Valve,
Or
Several Other Possibilities.
Which Need To Be Check Immediately
So Further Damage Does Not Occur.
If Your Power Bill
Is Unusually High
And
You Don't Have A Reason,
It Could Be A Well
Or
Pressure System Problem.
Call To Have It Checked Out.
Don't Pour Any Chemicals
On The Ground!!!
Such As Oil, Gasoline, Etc.
This Will Contaminate The
Ground Water Supply
FOR
You
And
Everyone Else
If Your Pump Or Motor
Is
Unusually Noisy Or Loud,
You Need To Get It Checked Out
Before Further
Damage Is Done.
Try Not To Let
An
Excessive Amount Of Water
Run Around The Casing,
This Could Cause Damage To The Well.